Welcome to Main Street
A Message from your Healthy Church Team:
Please register for 11 am Sunday Worship Service by contacting the office by
phone (540-942-1179) or e-mail (mainstumc@gmail.com) by Thursday at noon
each week so that we may get a head count. We want to make sure we can
accommodate all those desiring to attend in-person worship services. If you are
feeling unwell, or are recovering from illness, please enjoy the prerecorded
worship service available at Main Street's website. Everyone attending, whether
to worship or volunteer, should use the Portico entrance off the parking lot. Thank
you!
Bulletin for November 15, 2020
Main Street United Methodist Church is one of the oldest United Methodist churches in the Shenandoah Valley, founded in 1824.
Located in the heart of Downtown Waynesboro, Va., Main Street UMC is an active, growing community of faith through Christian Education, mission and community outreach, fellowship, music ministry, children's ministry and youth ministry, and United Methodist Women. Facilities are handicap accessible and have an elevator serving all three floors.
Our well-rounded, Preschool program is based on the curriculum of the United Methodist Chur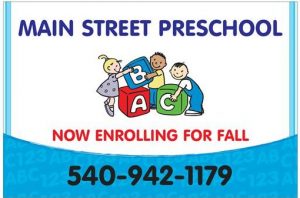 ch.
Sunday Services
Mission
The mission of the United Methodist Church is to make disciples of Jesus Christ for the transformation of the world.
The focus of our congregation is to Love God, Grow in Faith and Serve Christ