Welcome to Main Street
All Sunday Worship Services & Sunday School are canceled until further notice.
All church activities, including bible study, book club, etc. are canceled until further notice.
If you have any questions, please do not hesitate to call the office at 942-1179 between the hours of
8am-1pm (M-F).
A Message from Our Healthy Church Team
Bulletin for September 27, 2020
Main Street United Methodist Church is one of the oldest United Methodist churches in the Shenandoah Valley, founded in 1824.
Located in the heart of Downtown Waynesboro, Va., Main Street UMC is an active, growing community of faith through Christian Education, mission and community outreach, fellowship, music ministry, children's ministry and youth ministry, and United Methodist Women. Facilities are handicap accessible and have an elevator serving all three floors.
Our well-rounded, Preschool program is based on the curriculum of the United Methodist Chur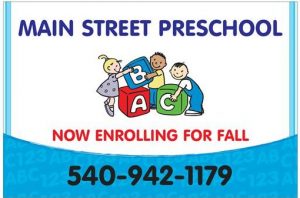 ch.
Sunday Services
Mission
The mission of the United Methodist Church is to make disciples of Jesus Christ for the transformation of the world.
The focus of our congregation is to Love God, Grow in Faith and Serve Christ